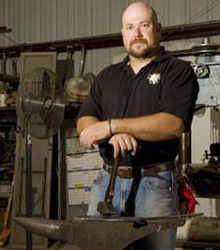 About Heart of Texas Metalworks
Heart of Texas Metalworks, located in Manor, Texas, offers a wide range of traditional and state of the art metal working services, including hot and cold forging, welding, manufacturing, assembly, and installation, as well as dynamic waterjet cutting. Come to us with an idea and we'll help make it happen. Come with a problem, and we'll help build a custom solution.
Heart of Texas is owned by Lee Lanford, a native Austinite, with 1993 years of blacksmithing experience.
Lee Lanford, Owner
2002-Present
Owner, Blacksmith of Heart of Texas Metalworks, LLC, Manor, TX
2001-2003
Pehoski Metalsmiths-Salado, TX
Worked with Joe Pehoski forging and fabricating commissioned pieces.
2001-2001
Waylan Smithy-Petaluma, CA
Worked closely with Toby Hickman in designing and forging custom lighting and architectural metal work.
1999-2001
New Castle Iron, Inc.-Ft. Lauderdale, FL
Worked closely with Bo Davis and Sharon Blondet designing, forging, and fabricating custom commissioned metal work.
1998-1999
TAM Intl-Houston, TX
As quality control inspector, inspected machining and finishing
Exhibits
Anvil Art Group Show
2005, Houston Center for Contemporary Craft in Houston, TX
Anvil Art Group Show
2005, Design Center of Austin in Austin, TX
Metalsmiths of Central Texas
2004, Design Center of Austin in Austin, TX
Metalamongus Group Show
2004, Austin-Bergstrom International Airport
Metalsmiths of Central Texas
2003, Design Center of Texas, Austin, TX
Metalamongus
2003, Gallery Lombardi, Austin, TX
Repair Days Annual Show and Auction
2003, National Ornamental Metals museum, Memphis, TX
Abana Conference Gallery Show
2002, Lacrosse, WI
Abana Conference Gallery Show
2000, Flagstaff, AZ
Austin Community College Student Show
1995, Dougherty Arts Center, Austin, TX